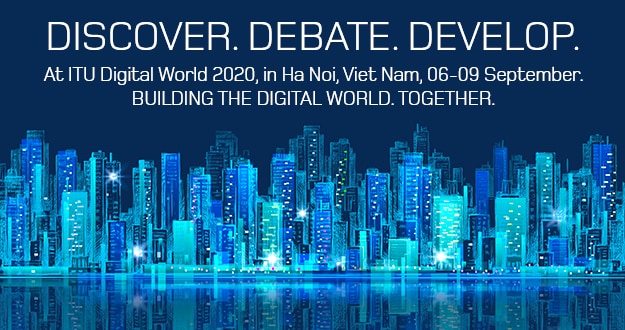 Looking to showcase your creative technology, innovations, products and ideas? Meet and network with top tech thought leaders from across the globe, to explore the drivers of digital transformation.
With its fast-growing digital economy and strategic location at the heart of the ASEAN region, Viet Nam is the ideal venue to explore the theme "Building the digital world. Together" at this leading tech event for governments, corporates and SMEs from around the world.​
Exhibit
Inspire our global audience with your country's or company's tech, innovation and ideas. Network with governments, industry and peers. Showcase to the world with National, Thematic or Industry Pavilions.
Find out more here
Sponsor
Put your company or country's message at the heart of the international tech community. Engage with key decision-makers through high-impact sponsorship options across content, networking and branding. Sponsorships include the Leaders Lunch, Networking Lunches, Breaks and Dinners, Forum Keynote/panel sessions, the Event App and many more.
Find out more here

Forum
Join high-level, expert-led debate on the strategies, policies and technologies driving digital transformation – from 5G, AI and smart cities to digital literacy, sustainable ICT and new partnership paradigms. Nominate yourself or other experts to speak in the Forum.
Awards Programme
Gain global visibility, UN recognition and partnership opportunities. Take your tech innovation to the next level with our Awards, recognizing the most innovative SMEs and corporate initiatives with social impact present at ITU Digital World 2020.
Networking
Meet global influencers from emerging and developed markets, from governments, SMEs and tech industry stakeholders. Network with intent with our programme of events, activities and tools.
Ha Noi, Viet Nam
The capital city of Viet Nam, ASEAN Chair for 2020, Ha Noi is also where culture, history and creativity meet fast-paced innovative development. ITU Digital World 2020 takes place in the NCC (National Convention Center), the country's leading and largest conference centre.