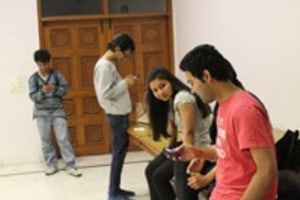 Are young people in India simply uninterested in what is going on around them? Apathetic, un-opinionated, disengaged? Anshul Tewari, one of the winners of ITU Young Innovators Competition at ITU Telecom World 2012, doesn't think so.
India's population is estimated at 1.2 billion people, with young people aged between 18 to 35 years making up the majority of the country's inhabitants.
The youth of India have traditionally not had access or a platform to voice their opinions and views on issues which affect both them and their lives directly.
The mainstream media in the country remains a sector restricted to the bigger urban centres, often not catering to the needs and challenges faced by rural-dwelling citizens, especially young people in other regions of the country.
This is the reason why so many issues remain seemingly unaddressed and in certain cases, ignored by young people in India.
It's also the reason why Anshul Tewari launched Youth Ki Awaaz five years ago.
Youth Ki Awaaz translates as "voice of the youth" in English, and has become one of India's largest online platforms for young people to express themselves on issues which are of importance to them, reaching over six million readers a month.
Making the best use of online journalism tools and new media, the platform mobilizes and engages young people in collaborative and participatory journalism in order to facilitate freedom of expression and create social change. It also equips India's traditionally marginalized youth with the journalistic tools and skills to create a better – and, more importantly, free – citizen media outlet.
On 26 February 2013, Tewari launched India's first ever dedicated youth mobile platform that empowers anyone – whether or not they have Internet access – to voice or report their opinions on crucial issues which directly affect them.
Curated over an Intelligent Voice Response system, a user who calls in is given the option to record their message in Hindi or English in 60 seconds. Once a message is recorded, it is immediately received in the Youth Ki Awaaz backend as an mp3 file, and then uploaded on the website as a podcast.
According to Tewari, this new technology will offer anyone – even those with limited time and resources – the power and ability for their voices to be heard and to access their right to freedom of expression.
The mobile platform and service is also the launch of India's first ever people-powered podcasts.
This empowering social project is one of the main reasons why ITU supports young entrepreneurs and innovators from all around the world.
ITU Telecom Young Innovators Competition provides young people with great ideas the platform to win funding, and provides them with mentorship and ongoing support to ensure that their ideas and dreams become a reality.
If you are inspired to learn more or even to take part in the ITU Telecom World 2013 competition yourself, please click here for more information, visit our Facebook page or e-mail us at young.innovators@itu.int