The Covid-19 outbreak has prompted us all to shift our mindsets and understand that we have entered a new world, and the old one will never return. The new world involves embracing digital for those who were not and making sure that services are still available and of high quality.
This era has taught us that we can very quickly deploy technology if we focus on the outcome we need to achieve.
As most of the services, both private and government, were locked down, Rwanda created digital solutions to control the pandemic and support her citizens. It is worth noting that most of the solutions were already in place before the Covid-19 pandemic.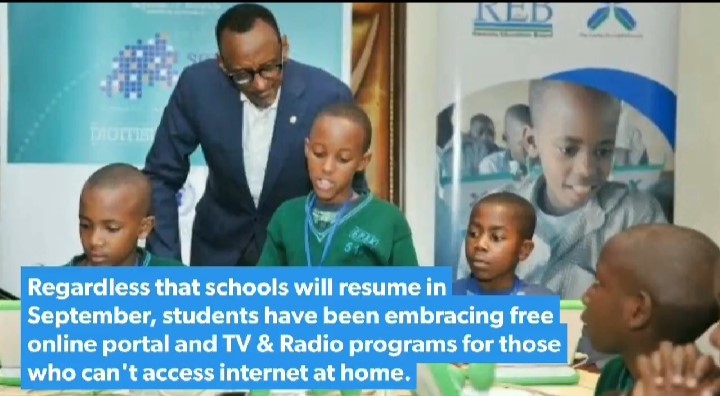 Different platforms, including websites that range from nursery schools to universities, provide access to all learning materials to help students at all levels who want to remotely keep track of their studies. With the resources provided, there are questions that can be used in the assessment of the students. The Ministry of ICT and Innovation acknowledged that some students do not have the resources to access the platforms like those without laptops and others in areas with poor internet connectivity, and therefore created broadcast and televised programmes on different radio and television channels.
The government introduced an online clearance pass for people seeking essential services. The platform requires the applicants to feed in their personal details including names, national ID number, telephone number, details of the journey (point of departure and destination), reason for movement and vehicle number plate. After submitting the required details, the applicant is required to wait for a response in the form of an SMS notification from the Rwanda National Police for approved or rejected movement. It can be accessed through a USSD code and website.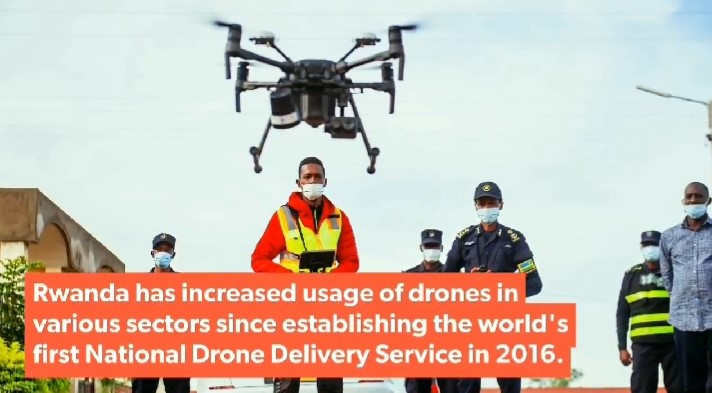 Rwanda has increased the usage of drones in various sectors; the Rwanda National Police embraced the use of drones to further raise awareness of the coronavirus pandemic in local communities. Drones are also used to deliver cancer medication and other essentials to patients who cannot reach treatment centres.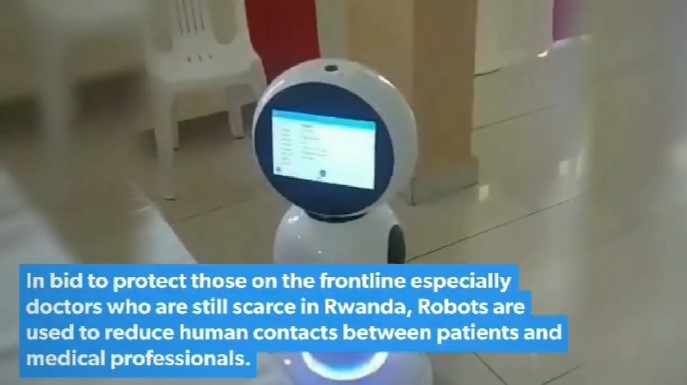 Rwanda uses robots in the fight against the Novel coronavirus where programmable machines are used to do some of the tasks in the handling of COVID-19 cases as an interface between patients and medics, in a bid to minimize human-to-human contact and protect those on the frontline, especially doctors who are still scarce.
The government of Rwanda has implemented an interactive map for COVID-19 statistics and a chart bot for related information in partnership with Esri Rwanda. The platform can be found at https://www.arcgis.com/apps/opsdashboard/index.html#/a41c7198367f4298ba330fbc2ca8714a
The government has embraced cashless payments and e-commerce and in effort to increase access to these services by the public, it has recommended nine domestic e-commerce and online grocery platforms to operate during and even after the coronavirus lockdown.
Mobile Money is a system that allows money transactions between individuals/ companies with any mobile phone and without needing a bank account. Telecom companies in partnership with several government institutions encouraged sellers across the country to go cashless amidst COVID-19. The move was in line with discouraging cash exchanges. The telecom companies slashed mobile money transfer fees.
Government institutions continued to provide essential services using an online platform called Irembo. Where the Irembo was not applicable, citizens were allowed to send their request/application via official emails of those institutions.
The Ministry of Agriculture continued guiding farmers via a dedicated hotline and by broadcasting SMSs to ensure that the agriculture season is not interrupted during the COVID-19 crisis.
Rwandan engineers completed the first Made in Rwanda ventilator as a response to COVID-19. The biomedical engineers, from the Integrated Polytechnic Regional Centre (IPRC) Kigali, released the first locally produced ventilators at affordable prices on the market to respond to COVID-19 pandemic, noting that an imported ventilator costs $20,000 but the one that was produced domestically costs between $2,000 and $4,000.