1971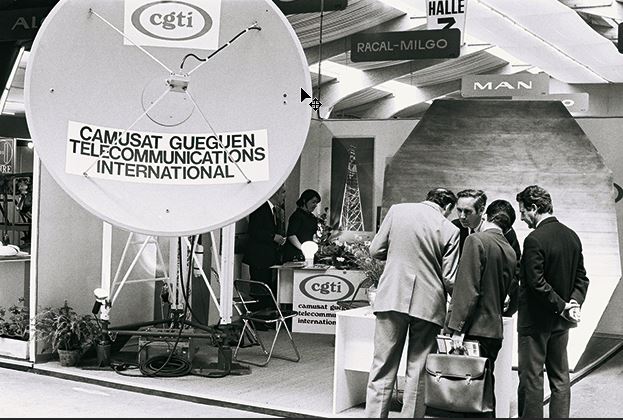 ITU Telecom World started out life in Geneva in 1971, with "a message to the 21st century". In 1971 ICT was all about telecoms; voice over a fixed infrastructure, run by national operators out of government departments. Innovations included switching and transmission equipment, videophones, audio-visual equipment and television studios, communications or research satellites.
1975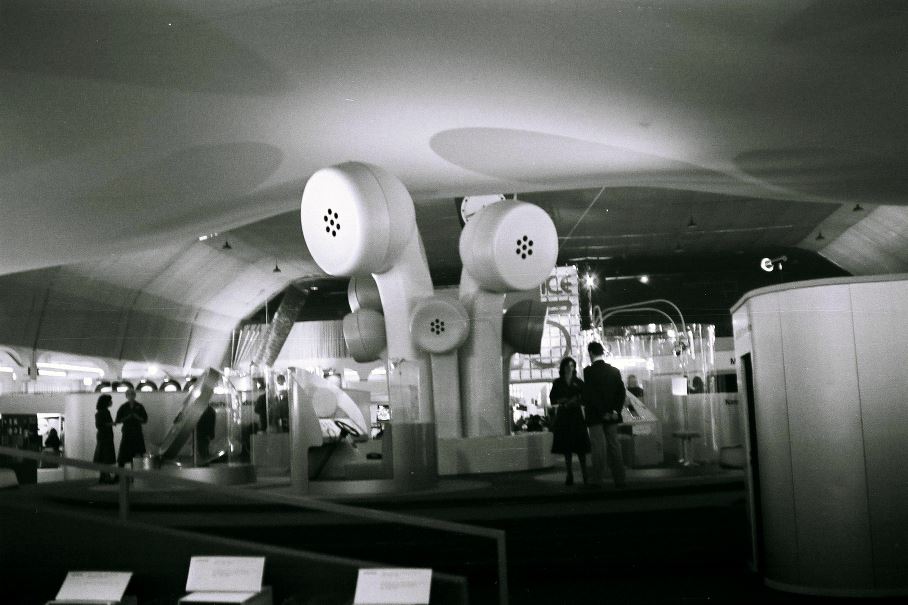 Innovations on show at Telecom 1975 included microprocessors and satellites- and giant telephones. Developing countries joined too, detailing their plans for public network, broadcasting, education, aeronautical or for any other activity needing telecommunications, so they could connect with constructors and meet with investors to discuss funding.
1979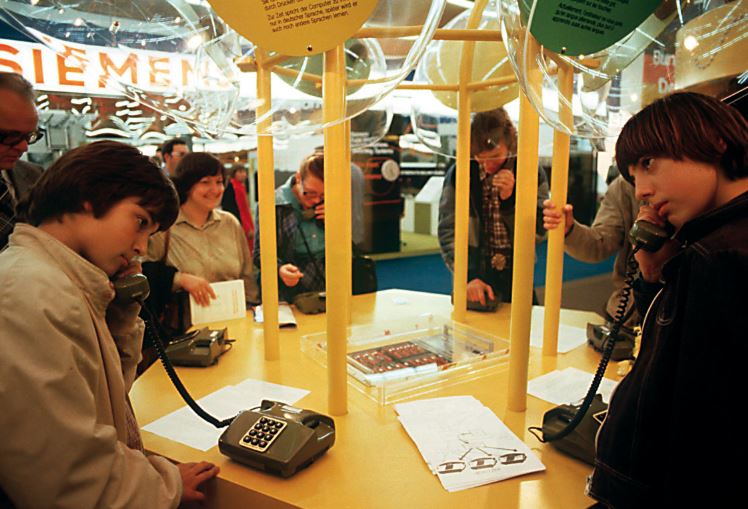 Engineering had advanced rapidly in the run up to Telecom in 1979. Innovations included the collaborative British exhibit "System X", which made its debut as an electronic telephone switching system. Cutting edge audio-visual equipment of the time helped simultaneously deliver Forum discussions, interviews and showcases in the Exhibition to external audiences.
1983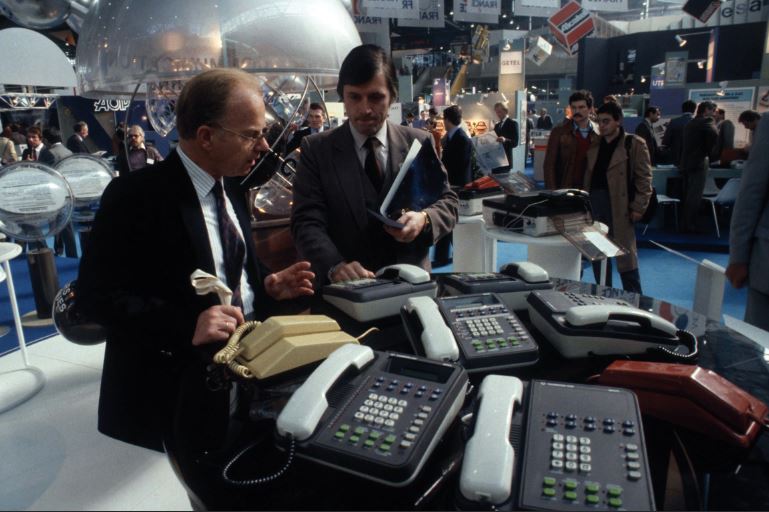 National pavilions from across the world joined TELECOM in 1983, which also saw the first appearance of China and AT&T at a TELECOM event. The Forum was in three main parts, with three different themes, covering the managerial, technical and legal aspects of telecommunications. A key discussion area was ISDN networks, at that time under consideration as the worldwide information highway.
1987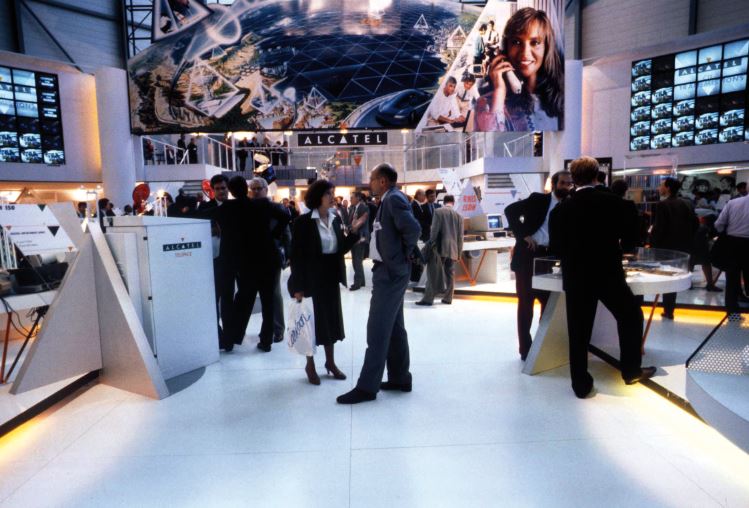 Participants at TELECOM 1987 got a taste of the global messaging network to come, with ISDN networks on display and an innovation showcase of the X.400 series of recommendations, that define standards for data communication networks for message handling systems (MHS) -more commonly known as e-mail.
1991
Exhibitors at TELECOM '91 showcased how information could be collected, managed, shared, processed, transmitted and received, irrespective of its form (text, voice, pictures of data) technology or message destination. The Forum explored key issues from accessibility to interconnection and interoperation and the implications of the global shift to deregulation and advent of competition.
1995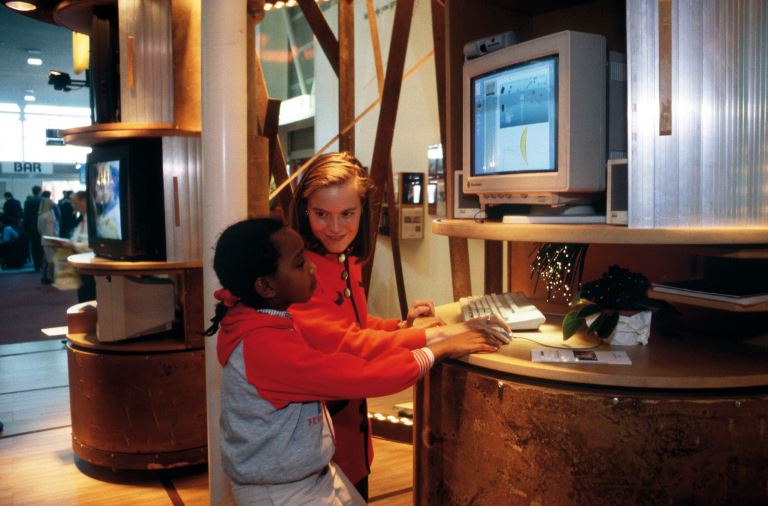 Highly influential figures from across government and the industry, including Nelson Mandela, launched Telecom 1995. It was an ICT extravaganza, reflecting new trends such as convergence, with the rapid growth of computer networks, the internet and inclusion of software companies in the tech ecosystem all on display on the showfloor and explored in the Forum.
1999
Telecom 1999 highlighted one of the most major trends in this era; the convergence of the internet with mobile technology. Innovations on show included a prototype smartphone, WAP (wireless application protocol) applications, the first steps towards a mobile Internet. The Forum encompassed 5 summits and combined sessions, focussed on areas such as Connected society, policy & regulatory or disaster mitigation and relief
2003
Innovative wireless Internet applications and mobile devices with in-built digital and video cameras dominated showcases at ITU Telecom World 2003. Other key themes reflected at the event included extending the reach of telecommunications into developing markets, with calls for the industry to look to the future and provide affordable services backed by regulation to facilitate growth. The Forum tackled issues from broadband and mobility, to new business models and new sources of revenue.
2006
Under the theme "Living the Digital World", ITU Telecom World 2006 in Hong Kong explored the trends, technologies and policies that are driving a digital world. Innovations on show included broadband-in-action at home and in the workplace, new, converged product offerings and IP-enabled services such as TV and Video. Extending the information society and promoting access to ICTs was a major theme. In the Forum, policies were explored and best practice cases highlighted.
2009
Forging top-level strategies aimed at harnessing the power of technology to enhance our global wellbeing were the focus of ITU Telecom World 2009 in Geneva. Key topics explored on the Show Floor and at the forum included mobile broadband growth, m-payments, cybersecurity, extending access to ICTs and the challenges of regulation in a fast-changing environment.
2011
By ITU Telecom World 2011, which took place in Geneva, the focus had moved towards debates and forums, with a Forum programme featuring new streams such as the Digital Cities programme and an in-depth Technical Symposium for CTOs and Engineers. The show floor highlighted opportunities in emerging markets across Africa, Asia, the Middle East and Eastern Europe.
2012
ITU Telecom World 2012 in Dubai looked at the impact of new market players and business models emerging across the ecosystem. Debates centred on the roll out of broadband connectivity, the challenges of cyberthreats plus the opportunities offered by smart applications in verticals such as health, education and government services. On show were talent and investment opportunities from across the globe and interactive digital experiences explored the history of ICTs and climate change.
2013
ITU Telecom World 2013 headed to Bangkok to explore the seismic change taking place in the ICT industry and its far-reaching impact. It featured pavilions from across the globe including the then worlds youngest country, South Sudan. Showcases explored new opportunities in voice and messaging, IPv6, TD-LTE, to name just some, and Forum discussions tackled areas from IoT, the future of broadband or OTT tech to 3D printing or the transformative impact of the Internet in Africa.
2014
The radical transformation of the ICT industry was high on the agenda at ITU Telecom World 2014 in Doha. Hot topics included different uses for Big Data, mobile networks in the cloud, the softwarization of network elements or broadband in emerging markets. Innovations on display included a demonstration of 4.1 Gbps over TDD -FDD LTE, Smart Africa, Tanzania's National ICT broadband backbone amongst others.
2015
ITU Telecom World 2015, in Budapest, was the first Telecom event to specifically reach out to SMEs from across the globe. They joined alongside major corporates and national pavilions, also taking part in the first edition of the ITU Telecom World Awards. Global innovation was the focus of the event, with showcases exploring 5G to e-governance, satellite and more. Forum discussions provided important dialogue between government and start-ups, and between established industry players and SMEs.
2016
Collaboration to grow the digital economy was the focus of ITU Telecom World 2016 in Bangkok, which included big names, countries and SMEs from around the world. Showfloor innovations included 5G, cloud computing, smart devices or smart city solutions, plus investment and partnership opportunities from around the world. New vertical sectors also joined the event, reflecting the growing importance of ICTs in key verticals such as automotive or finance.
2017
Major corporates and cutting edge SMEs showcased a raft of innovations in Busan at ITU Telecom World 2017, including 5G, artificial intelligence (AI), virtual reality (VR), e-Health, e-Finance, Internet of Things (IoT), radio frequency spectrum solutions, spectrum management, smart city technologies, and self-driving vehicles. Forum discussions explored topics crucial to smart digital transformation, including new approaches to connectivity, AI, IoT, 5G, digital resilience and more.
2018
ITU Telecom World 2018, in Durban, focussed on the technologies, innovations, ideas, policies and regulations to bridge the digital divide and achieve the SDGs. This included showcases of smart digital solutions, SMEs and innovative technologies in fields such as intelligent agriculture, health screening, IoT, VR/AT, smart learning, smart cities, Internet of Vehicles and more. Forum debates covered development and impacts in 5G, IoT, AI, smart cities, digital literacy, supporting tech SME growth and more.
2019
ITU Telecom World 2019 headed back to Budapest once again, showcasing innovations from 5G, satellite, e-waste management, robotics and blockchain to AI, smart cities, smart agriculture, smart homes, climate change mitigation, fintech and more. Forum debates tackled broad questions; how to make connectivity meaningful or key concerns- in terms of trust, privacy and cybersecurity- of our digital transformation plus major industry issues from 5G, digital literacy, supporting SME growth and more.