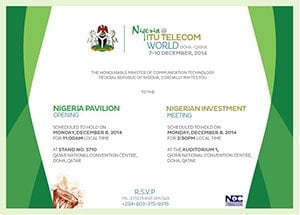 Nigeria is set to showcase its plethora of investment opportunities at ITU Telecom World 2014 in Doha, Qatar on Monday, December 8, 2014 during its Investment Meeting.
A delegation led by the honourable Minister of Communications Ms Omobola Johnson is on the ground at the Qatar National Conference Center, QNCC, Doha to host potential investors and to showcase vibrant and exciting projects and innovations across the dynamic Nigerian ICT Sector.
Nigeria's theme for this year's presence at ITU Telecom World is BROADBAND NIGERIA: ENABLING ACCESS, TRANSFORMING COMMUNITIES.
Speakers will include Joseph Tegbe, the principal partner of KPMG in Nigeria; Abdullahi Maikano, Secretary, Universal Service Provision Fund; and telecom operators giving an overview of the benefits of investing in Nigeria, including MTN's Michael Ikpoki, MD/CEO and Ibrahim Dikko, Director of Regulatory Affairs at Etisalat Nigeria. The session will be moderated by Dr Eugene Juwah, Executive Vice Chairman and CEO of the Nigerian Communication Commission.