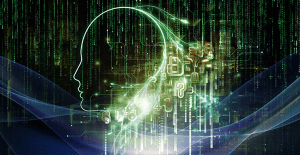 The World Economic Forum has identified Artificial Intelligence (AI) as one of the top 6 trends shaping our society. Gartner's 2016 Hype Cycle for Emerging Technologies has the perceptual smart machine age as a top 3 trend. And Tesla and SpaceX founder Elon Musk has said that "we should be very careful about artificial intelligence … it is perhaps our biggest existential threat."
But what is AI, and is our wariness of unintended consequences obstructing our view of the great benefits it could bring humanity? What are the implications to society, economic development, and our paths to prosperity?
The 'AI of Everything' era
The near future will see large parts of our lives influenced by the AI of Everything (AoE) – an inflection point for humankind.
It's an unprecedented era of:
Hyper time compression in the emergence of new disruptive innovations — measured in days and weeks rather than years.
Extreme convergence of multiple domains: physical, digital, biological – where there is overlapping amplification of value.
Exponential acceleration of automation – triggered by smart sensors and the IoT
Connectivity linked by a digital AI mesh – through the rapid deployment of machine learning.
Indeed, AI is creating a digital quake where 80 percent of companies and jobs may need to change or fail. Machines can execute repetitive tasks with complete precision, and with recent advances in AI, machines are gaining the ability to learn, improve and make calculated decisions in ways that will enable them to perform tasks previously thought to rely on human experience, creativity, and ingenuity.
AI will also come to support emerging applications in the IoT space, with billions of devices, things and objects gaining the ability to learn from patterns observed in their environment and communicate these learnings to a larger ecosystem of intelligent devices.
AI: central to achieving the SDGs
AI innovation will be central to the achievement of the United Nations' Sustainable Development Goals (SDGs) by capitalizing on the unprecedented quantities of data now being generated on sentiment behavior, human health, commerce, communications, migration and more.
For instance, machine learning and reasoning can extend medical care to remote regions through automated diagnosis and effective exploitation of limited medical expertise and transportation resources (SDG 3). Methods developed within the AI community may even help to unearth causal influences within large-scale development programs, helping us to build a better understanding of how we might design more effective education systems (SDG 4). Ideas and tools created at the intersection of AI and electronic commerce may uncover new ways to enhance novel economic concepts, such as micro-finance and micro-work (SDG 8). AI will also serve as a key resource in curbing greenhouse gas emissions in urban environments and supporting the development of smart cities (SDGs 11 & 13).
ITU and AI standards and regulation
Global partnerships (SDG 17) will offer crucial support to our pursuit of all of these goals and a draft report by the European Parliament strongly encourages international cooperation in establishing regulations and standards for the governance of AI technologies under the auspices of the United Nations.
ITU has responded with plans to hold a series of talks on AI that I will have the privilege of moderating at the upcoming ITU World Telecommunication Standardization Assembly in Hammamet, Tunisia; as well as at ITU Telecom World and the ITU Kaleidoscope academic conference in Bangkok, Thailand.
ITU also recently signed a partnership with the IBM Watson AI XPRIZE. The 5 million USD prize aims to accelerate the adoption of AI technologies from diverse and open sources, and spark creative, innovative, bold demonstrations of technologies with the potential to become truly scalable and capable of solving some of the most pressing challenges to our societies and economies.
The development and adoption of relevant international standards can help us to realize the benefits of AI advances on a global scale, assisting us in the pursuit of the UN sustainable development goals. However, despite widespread understanding of the benefits we could draw from a set of internationally accepted standards, we have yet to make any significant progress in our attempts to agree such standards. We are in need of a better understanding of where AI innovation is leading us and what this means for international cooperation, in the domains of both regulation and standardization.
ITU has created a new LinkedIn group for debate on cutting-edge AI technologies and related ICT applications and services, with the aim of promoting discussion on the future course of AI innovation and its implications for technical standardization and governance. I encourage you to join the discussion to share your views on how you would like to see the international community approaching the biggest questions surrounding the future of AI and, by extension, the future of humanity.