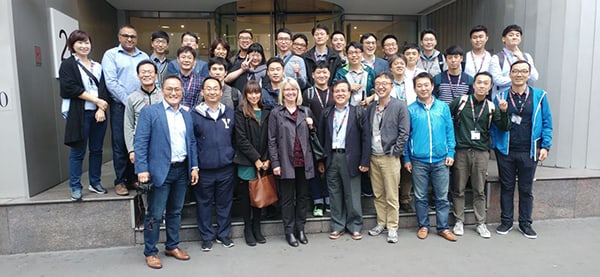 Smart digital transformation was the topic of the ITU Telecom World 2017, which took place in Busan, Republic of Korea last month. Solving urban challenges using digital technologiesv – Smart Cities – was at the centre of the discussion as summarized in the Euronews video of the event.
I had the pleasure to be part of the Smart City Leaders Roundtable, sharing experiences with leading Asian cities such as Singapore, Seoul, Hong Kong and of course Busan, our host.
My learning can be summarized with the following three elements:
Building an Enabling Infrastructure
5G, the next generation mobile network, is required to support the development of our connected environment. A city like Busan is a leading Internet of Things (IoT) city, having massively deployed sensors to monitor its critical infrastructure. For example, the "Safe Driving In the Rain" service created by Busan, providing notifications of the degree of rainy road risks per road segment. This service is based on the data collected from sensors installed on public buses, generating real-time information about the volume of rain.
5G will bring ubiquitous connectivity; however, a second foundation is required to bring new pervasive digital services: the enabling infrastructure. Two important elements of this are Digital Identity and Cyber Security. When all citizens and businesses have a digital identity, efficiency gains can be realized in many sectors. Two examples: construction companies could request building permits online, and doctors could send digital prescription slips to the pharmacy for you to pick up your long-term medication.
Living Lab and Citizens Centric
To develop new digital services, most cities are creating Living Labs, which consists of providing an area for experimentation and creating an ecosystem around it. If pilot projects are successful, they are then rolled out across the entire city. It is a good way to develop the digital culture, "prototype, test and learn" and "fail fast to fail cheap". An important element is to develop citizen-centered solutions and get citizen involvement in the design process, by creating a public-private-citizen problem solving.
An interesting solution being tested by the telecom operator KT is infectious diseases notification. The service under development is called "Smart Gate": it makes use of roaming data to check if a person has visited an infectious disease area prior to enter South Korea. You can also send information to people visiting a country at risk and provide them with prevention advice or alerts when an outbreak starts.
Horizontal Disruption
Uber has already modified the taxi business, but we are starting to see some adjacent business development: in Singapore, Uber service is now being used in the retail industry to deliver goods. The service is therefore impacting the retail sector, by modifying the supply chain of goods.
This example shows that digital disruption is going to impact every sector and that governments should take measures to support the economy and especially SMEs. Singapore has launched a programme called "SMEs Go Digital" to help them build stronger digital capabilities. They have defined six focus sectors, retail being one of them. The programme includes an SME Tech Hub, where pre-approved solutions are proposed. For instance, a retailer can have access to a cloud-based application which supports him to sell online to the Chinese market. The tool includes tagging and authentication technology to comply with Chinese food import regulations.
Embracing this digital transformation
In this smart digital transformation, building an enabling infrastructure, developing living labs and running programmes to support SMEs will be the key initiatives to keep the competitiveness of a country in the future. Some countries are still well known as fiscal paradises: I think it is instead the time to foster a digital paradise, to become a leader of the digital economy.