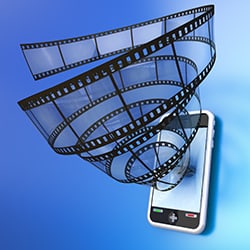 Mobile broadband is booming worldwide, underpinned by a global footprint of 3G/HSPA and 4G/LTE networks. LTE is mainstream and fast developing with approaching 350 live networks today, and is expected to cover 70% of the world's population by 2020.  Worldwide the number of mobile subscriptions grew 6% over the last year, while mobile broadband connections leapt 30% to 2.5 billion, of which 350 million are LTE users. The smartphone is the device of choice, accounting for an estimated 70% of all mobile phone sales in Q3 2014.
Data consumption on smartphones, tablets, MiFis and other connected devices is also booming, 60% growth in data traffic being reported during the last 12 months. Video is the main driver and estimates point to 70% of mobile data being video by 2020.
LTE operators are increasingly focusing on the user experience of mobile broadband and enhancing the capacity, coverage, capabilities and efficiencies of their networks. LTE Broadcast (or LTE Multicast) is a key and promising technology that is already standardised within 3GPP LTE Release 9 for supporting the predicted explosive growth of video services consumption. The evolved Multimedia Broadcast Multicast Service (eMBMS) is the name of the LTE Broadcast technology and enables efficient distribution of point-to-multipoint content so that multiple users are able to receive the same content simultaneously. It could include HD video, mobile TV, digital radio, or push content.
LTE Broadcast creates a single frequency network (SFN) using part of an operator's existing LTE spectrum to distribute broadcast streams into defined broadcast areas. All cells contributing to an SFN send the same data during the same timeslots to appear as a single cell. This is particularly useful for serving densely populated areas such as a sports stadium, arena, concert hall, shopping mall, etc. The SFN coverage area may be small, consisting of a few cells, or large – citywide, regional and even nationwide. Multiple users "tune-in" to the SFN for the best experience of the data stream content/service such as video, and in the most efficient way, allowing the operator to free up more capacity for other users on the network, and for more content and services. Broadcast and unicast radio channels co-exist in the same cell, sharing capacity and available radio resources are dynamically assignable for either broadcast or unicast delivery.
Many use cases are supported by LTE Broadcast technology. Mobile TV services are commercially launched using eMBMS in South Korea. LTE Broadcast technology promises new revenue sources for operators by distributing TV over mobile broadband systems, available to users with a compatible device, and allowing broadcasters and content providers to extend their reach to mobile users and enable new interactive services. Wide area TV broadcasting is being trialled now in Germany. But how much is the user willing to pay for mobile TV?
There are many other use cases for LTE Broadcast which are being studied and new business models will emerge. Around 20 trials are underway globally by several Tier 1 mobile network operators working with multiple content providers and partners such as the BBC. Many initial applications focus on coverage within stadia, but its potential is much wider, extending to smart cities, emergency broadcasts, software update downloads, video and music services, digital signage, connected vehicles (cars, buses, trains), and so on.
The role LTE Broadcast could play for TV broadcasters and other content providers will be discussed in the Convergence of Broadcasting and Broadband panel session. We shall consider the benefits for the various stakeholders including content providers, how broadband and broadcast technologies can be combined to deliver the most efficient video delivery solution, or whether cooperation rather than convergence is the path. While many broadcasters will be ready to embrace eMBMS, some will have a different perspective. Tensions may arise from demand from mobile network operators for spectrum which up until now has been allocated for terrestrial TV broadcasting, particularly in the 700 MHz band which has excellent mobile coverage properties. Some regulators are contemplating closure of terrestrial TV networks and delivering broadcast content over mobile networks. How will the competitive positioning between fixed and mobile network operators and cable operators evolve? Might cross-sector consolidation make sense? Can mobile TV overcome previous failed attempts?
I look forward to meeting you at ITU Telecom World 2014.