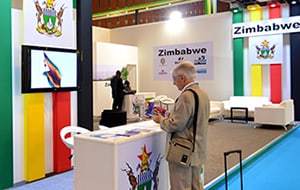 Zimbabwe is a land rich in diversity ranging from low-lying semi-desert regions to lush highlands strewn with forests and lakes. It is a country situated on a high plateau in Southern Africa and covering 390 245 km. Zimbabwe's ICT sector has over the past years entered a new age of opportunity and growth which four years ago would have seemed most unthinkable. This sector has proved to be a key infrastructural enabler for economic growth and has acted as a catalyst for propelling the country into a knowledge society with ubiquitous connectivity.
Just a few years ago, thousands would gather outside our stores, waiting in endless queues for the chance to purchase a simple SIM card. This was the most visible result of years of low investment in telecommunications. Zimbabwe was among the lowest in terms of internet penetration those years and yet, today, a revolution is sweeping across Zimbabwe's telecommunications industry and the internet penetration rate has risen to just over 35%. While less than 14% of Zimbabweans had access to mobile phones in 2009, today, close to 90% of our people are connected to cellular technology and a significant number has adopted mobile money technology. Zimbabwe today stands as one of the top five nations with the fastest internet speeds on the continent, with the latest 4G LTE now available to ordinary customers. High speed broadband has become the backbone of the knowledge economy as well as a significant contributor to economic growth. The World Bank estimates that a 10% increase in broadband penetration could raise GDP by 1-2%, so Zimbabwe's ICT industry is on the right track.
According to a report by Opera Mobile, Zimbabwe has been consistently ranked in the top 10 mobile internet users and the biggest African market in terms of page views per user. According to the Zimbabwe Investment Authority, there are a number of investment opportunities in the Zimbabwe ICT sector which range from e-business to business process outsourcing and many others. Beyond telecommunication services, Zimbabwe is a hive of mineral wealth, arable agricultural land, and manufacturing, with great investment opportunities in these sectors. With the ever changing technology, Zimbabwe stands ready to adapt and develop to the future of technology.
This year 8 companies are taking part in ITU Telecom World 2013 in Bangkok Thailand and these are Africom, Econet Wireless Zimbabwe, Liquid Telecom, Telecel Zimbabwe, Netone Cellular, TelOne, Zimbabwe Investment Authority and Potraz the regulator. Zimbabwe is also sponsoring a networking cocktail this year for exhibitors on the 18th of November 2013 in the Gandhi Palace.