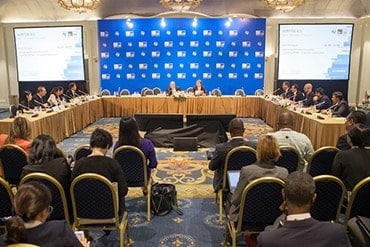 ITU's Brahima Sanou, Director, Telecommunication Development Bureau, welcomed delegates and a diverse panel line up, spanning cutting edge start-ups to key industry players including Intel and Mastercard as well as GSMA, to the B2B dialogue. This was ably moderated by Stephen Ibaraki, Founding Chair Global Industry Council & Vice-chair, IP3 Board, International Federation for Information Processing. Commending the nature of the panel, which brought MSMEs and industry together, he noted that we are seeing this kind of dialogue more and more frequently. ITU, he explained is the "broker to bring the whole ICT ecosystem together." Noting the vital role of MSMEs in the ICT ecosystem, he explained that MSMEs can create "local solutions to help attain the SDGs."
Biggest pain points for MSMEs
Time, speed, payment, navigating rules and protecting know-how were among the key pain points of corporate collaboration cited by the MSME panelists.
One key advantage, however, of working together with MSMEs is speed. Decision making within a corporate environment is slower, explained Natwut Amornvivat, Co-Founder, T2P, Thailand, and can diminish a competitive advantage, potentially slowing a product launch by several months. MSMEs, as both potential partners as well as disruptors, can reach markets first.  MSMEs and corporates have "different biorhythms" according to David Manset, CEO, Gnúbila, France. MSMEs, with their fast-paced development and decision making, need a corresponding fast rhythm for interaction.
MSMEs and corporates also operate with different mindsets, explained Manset. Within a corporate environment, individuals maybe focussed on building a career within that environment, whereas an entrepreneur can "lead 9 lives in 1," and corporate employees need to realise this. Too many contact points within one organization can also make a contractual relationship difficult to set up.
Rules and regulations set up by corporates can also pose a problem for MSMEs to navigate their way through, according to Arada Fuangtong, Director of Digital Commerce Market & Manager of Thaitrade.com, The Department of International Trade Promotion (DTIP), Thailand, and they may need help and support with these.
Payment can pose a challenge, according to Oranuch Lerdsuwankij, CEO and founder of Thailand's Techsauce, particularly for MSMEs used to operating within a b2c environment with online payment. Payments with corporate entities can involve contracts, purchase orders, and start-ups can have problems managing the cashflow. Protecting valuable know-how can also be a challenge, according to Yoonju Sung, VP, Sales, RippleBuds, Republic of Korea, as technology may often need to be shared and there is a concern it may be copied or disclosed.
Corporate perspective
Representatives from leading global players empathized with the MSMEs on the challenges they face, particularly navigating their way to the right decision maker within an organization.
MSMEs need to be prepared to talk to several people before you find the right person, according to Carlos Cornejo, Senior Vice President / Group Head New Consumers, Public Sector & Humanitarian Products, MasterCard. Nevertheless for those who do find the right contact and entry point in, it could be highly beneficial, providing a better chance of winning the next largest corporate – becoming a "lighthouse account." According to John Galvin, Vice President, Government and Education, Intel, both sides should take advantage of sessions such as this B2B dialogue to make connections and build partnerships. "You need to look at opportunities such as this to really form your network." Said Galvin.
We are also trying to accelerate, added Cornejo, although must follow our own processes, and MSMEs need to understand this also. This sentiment was echoed by Cuvellier "Both parties need to try and adapt to the other." Good collaboration works with a single point of contacts, ideally a small team empowered to work with start-ups.
As an operator, explained Taimur Rahman, Chief Corporate and Regulatory Affairs Officer, Banglalink Bangladesh, "We are scared." With less young people using voice services, operators are concerned by prospects for the future. Partnership is now essential "We have to change ourselves, we can't be what we were. We have to partner, we have no option." MSMEs need to be mindful of this, and pitch how they can help. Entrepreneurs need a "value chain that should talk in 30 seconds" according to Birendra Sasmal, CEO, Subah Infosolutions.
A change of approach?
So who needs to adapt their strategy and approach? Manset asked if we would see a move to a new form of organizations, with fragmented value chains and a more entrepreneurship-focused mindset?
Galvin doesn't envision the end of today's corporate culture, and "corporates acting like MSMEs," as such sweeping structural changes would be hard to instigate in multinational entities. MSMEs need to understand corporates and the challenges they face, added Cornejo, if they want to build a partnership.
Both sides must appreciate the other's strengths and concerns. If you want a partnership with a multinational you must understand them, according to Cornejo. If you better understand your customer you will have a better approach. "You need to see the beauty of each other." He explained.
MSMEs need to be ready to meet the needs of corporates, according to T2's Amornvivat, by investing in time, prototyping to be able to demonstrate a working solution which can be circulated within the corporation to be seen at many levels.
According to Galvin, the best entry for MSMes into corporates is "through line of business." Although they should bear in mind that if they grow with the company they "maybe growing out of what made them so attractive to begin with."
Conclusions
Today has underlined the big gap that needs to be closed in order for tech MSMEs to enjoy healthy relationships with multinationals, and should be the first of many discussions, according to Galvin.
We are changing, we need to be open and rethink processes in order to integrate more the value SMEs can bring, concluded Cornejo.
Don't give up, Cuvellier told the MSMEs, they are hearing you and there are great partnerships to be built.
As operators, we know we need to change, said Rahman, but change will take time. You need to understand us and work together.
We need to create a focus, we need a more platforms like this where we can discuss all issues, according to Sasmal. We are changing, moving in the right direction but it will take time.
Giving MSME perspectives on discussions, T2's Amornvivat acknowledged his appreciation for the discussion, noting that corporates are receptive to the growing ecosystem. He urged MSMEs to navigate the relationship with corporates well "It is to your own advantage."
Fuangtong urged participants to open their minds and hearts. Technology is unstoppable, she said, but keep opportunities open.
Techsauce's Lerdsuwankij commended the initiatives from the corporate side, calling for more collaboration between the 2 sides
An ongoing cultural change is taking place in the industry, according to Manset but is still ongoing, and a cultural change is needed, so the value chain is better addressed.
We need to know what we really want from each other, according to Sung, we need to cooperate for synergy.
ITU Secretary-General Houlin Zhou concluded the session by outlining his vision for ITU Telecom World events as the unique international platform, connecting ICT SMEs, business and governments, a platform that we still need to work hard to promote. It is my dream, he told delegates that in future if anyone about supporting SMEs they think about ITU Telecom.  He encouraged delegates to continue the discussions and to promote the ITU Telecom platform.
Moderator
Opening Remark
Panellists
Closing Remark