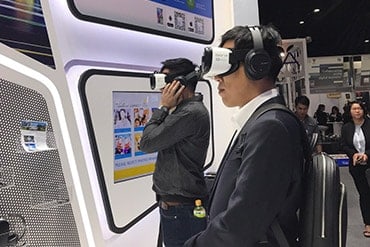 ITU Telecom World delegates are invited to experience THAILAND in 360° Virtual Reality as a Business Event Destination, with Thailand Convention and Exhibition Bureau (TCEB)
A Virtual Reality videography will transport you right to Thailand. Created by Thailand Convention and Exhibition Bureau (TCEB), THAILAND 360° lets you experience the Business Events Destinations in 3 different versions.
A City Full of Dreams: Explore Bangkok, this vibrant capital with endless potential and possibilities. Enjoy world-class business event facilities with world-renowned hospitality. The city is truly a dream-come-true destination for business events.
Days of Wonders: Let Thailand's beach towns amaze you. From adventurous team building challenges to meaningful CSR activities, your business events trip will be dazzled by the sea and sunshine of our beaches.
Legends Retold: Indulge yourself with the luxury of Thai culture and legendary hospitality. Spoil your tastebuds with Thai food. Dance to our tune. And you will know the reason why they call us as the "Land of Smiles".
Why not spice Up Your business agenda and find out more about the exclusive privileges we offer to make your business events trip an even more memorable experience.
Visit Thailand Convention and Exhibition Bureau (or TCEB) at booth T14.1