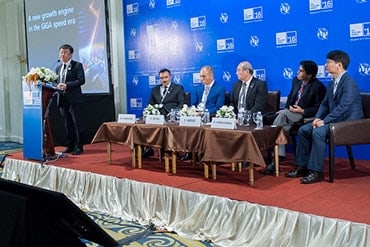 Collaboration, healthy competition, together with the technologies, spectrum and ecosystem that will deliver 5G to the world were some of the key issues explored by the panel in today's Delivering 5G: Competition or collaboration session.
Defining the technologies
According to session moderator ITU's François Rancy, Director of the Radiocommunication Sector, 5G is matter for whole world, not just a few countries. Added to this is the importance that mobile broadband has already taken in society. Against this backdrop, the technologies that shape it will be crucial, particularly when people have such tremendous expectations about what it will do and enable. Rancy explained that ITU Working Party 5D is currently scoping out the technologies, safety requirements-  the overall radio system aspects- that 5G (or IMT 2020) will comprise.
Inmarsat CTO Michele Franci, told delegates that Inmarsat is continually making improvements on radio access technologies and that the developments happening on  "the software defined networks side of things are a strong enabler…for allowing a vision like 5G to become reality."
In readiness for 5G, Huawei is already deploying technologies such as massive MIMO, as well as integrating SDN and cloud architecture technologies in readiness for achieving a bigger scale of performance for 5G, according to Yuefeng Zhou, Chief Marketing Officer, Wireless Network Product Line at Huawei.
OFCOM (Switzerland) Director-General, Philipp Metzger spoke of the need to give more leeway to industry as there was still "uncharted territory to explore technically to how 5G networks will pan out."
Building Ecosystem
Crucial to a successful delivery of 5G will be the creation of the right ecosystem. On a cautionary note, according to Metzger "we need to tackle 5G in a multistakeholder, holistic way. The process to get to 5G must be based on the right standards, sustainable not immediate hype."
In terms of building the ecosystem, according to  Håkon Bruaset Kjøl, Senior Vice President and Head of Corporate Affairs, Telenor, we need to look at who will be in the space. This needs to be occupied private sector, governments and regulatory bodies, and requires good communication and understanding between the entities. Significant private sector investment will be required, not just in infrastructure but also spectrum, as a "basket of spectrum" will be needed to deliver all services.
Collaboration and competition
Panellists all agreed on the vital importance of collaboration. "If we want to realize 5G ambitions, collaboration needs to take place on a level of regulatory, policy and standardization of technology'" Said Telenor's Kjøl, a viewpoint echoed by other participants.
Collaboration not just between entities but also to share ideas and innovations is also critical, if 5G is to reach its full potential "For 5G, we need collaboration between academia and industry, between vertical and mobile to understand typical requirements, to make sure industry has more innovative technologies" Explained Huawei's Zhou, particularly given the stage they are at in terms of defining standard, product and ecosystem.
Inmarsat CTO Michele Franci gave a perspective from the satellite side. Key elements of the 5G journey would be building a "network of networks". According to him, 5G offers "A great opportunity for the satellite industry to work together with other elements of the telecoms industry to develop something that allows users to benefit, so they don't see which part does which role- a seamless integration." It is not, he told delegates "About core infrastructure technology but enabling the applications that meet the needs today of users all over the world."-with the aim of creating pervasive applications for everyone across all societies, not just a top tier of users.
Nevertheless, striking a balance between collaboration, whilst also enabling competition to flourish, is crucial for a successful 5G delivery.  Regulatory bodies need to create competitive solutions. According to Telenor "Government should put in a framework where competition is allowed in a fair way."
Competition also has a key role to play in enabling innovation to flourish, especially on an SME level, according to Telenor where accelerator programmes can kick start a healthy competitive environment in a local ecosystem.
Questions of spectrum
On the issue of spectrum, participants noted the need for a stable, predictable spectrum allocation. Franci called for discussions on "which part of the higher frequency is to be allocated to 5G," noting that we "need to work round these discussions in a consistent manner." According to Kjøl of Telenor. "For higher frequency bands, many Asian countries are still lacking spectrum release plans." Telenor would like to see these released in order to facilitate dialogue and keep pace with consumer demands. "We need to know as soon as possible the bands to be decided by WRC 2019," noted ITU's Rancy, although Huawei pointed out that although we need new spectrum, "using existing spectrum also important." We need to give technology to existing bands, rather than bands to technology.
ITU's Chaesub-Lee raised the issue of supporting licence spectrum with unlicensed band. Huawei's Zhou felt that using this would depend on what would be the benefit from this for the end user in terms of increased product offerings, and without damaging existing unlicensed spectrum and protecting those who are paying money for spectrum.
Concluding the discussions, ITU's Rancy noted that significant collaborative effort would be needed to get harmonized solutions from a spectrum point of view. Although room for competition is needed within the 5G space, cooperation and collaboration is needed at this point "in terms of defining something that we call 5G that all will take up." Today- and tomorrow's- 5G ecosystem is emerging out from a 30 year old ecosystem. "We are working to preserve the mobile planet for our common good."
Moderator
Mr François Rancy, Director of the ITU's Radiocommunication Bureau, International Telecommunication Union, Switzerland
Panellists