In medicine, vital signs (or simply "vitals") represent the most critical indices of physiological function and life. The pulse tells the doctor that a patient's heart is beating. Temperature indicates that homeostasis is stable. Respiratory rate confirms ongoing circulation of oxygen and carbon dioxide. And blood pressure signifies that vessels are receiving an adequate amount of energy and oxygen. Not only are these vitals important signs of life, they are also fairly easy to measure via hand or simple equipment.
In newborns, vitals can be a little harder to measure. For example, a proper reading of respiratory rate by observation of the rise and fall of the abdomen is problematic if the child is crying. Likewise, a pulse may not always be detected by a finger on the wrist. It is thus common practice that clinical caregivers wait for the newborn to be at rest or sleeping before taking its vitals. In the case of urgent disease diagnosis, the use of more complex and invasive methods for vitals measurement such as blood gas analysis may be necessitated.
In its Sustainable Development Goals (SDGs), the UN identifies that infant mortality remains a grand challenge. Every year over 3 million infants die within the first month of life. The majority of the casualties occur in resource-poor regions of the world where the more sophisticated vitals measurement options are simply unavailable due to costly equipment and lack of skilled personnel, amongst other logistical factors. There is a critical need for diagnostic methods for newborns which address the challenges of cost and skill, yet lend themselves to early detection.
The cry is the most bounteous signal one could get from an infant. Presently, it already serves a number of vital purposes. At birth, the absence of a cry is usually a sign of intrapartum asphyxia. Post-birth, parents rely on the cry to know when the child is awake or requires attention. Over decades researchers across clinical domains have hypothesised that the infant cry holds a rich amount of information about its physiological well-being, chiefly because crying is the primary communication mechanism of the infant; and is a direct, unfiltered response to internal stimuli which the newborn has no control over. The particular connection between infant cry and breathing has also been identified due to the alignment between the physiological process that governs both.
Today, the fourth industrial revolution heralds technologies like artificial intelligence (machine learning, deep learning) and the Internet of Things (IoTs). These technologies are allowing us to sense, process and transform raw data into actionable knowledge in ways that were never possible before. AI technology can be developed to learn intricate patterns within the cry of an infant and automatically identify patterns which signal pathology (such as breathing difficulty). Deployed via mobile phones or wearables, this technology could dramatically improve how early we are able detect conditions affecting newborns. Insights generated will ensure that infants can be taken, early enough, for potentially life-saving care.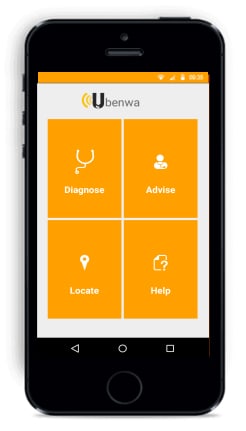 Ubenwa is a cry-based diagnostic app for birth asphyxia
Finally, harnessing the cry as a vital sign could give way to diagnostic methods that are affordable, non-invasive and requiring little or no expertise to use. In the long run, this will help reduce fast-rising healthcare costs in developed countries and also increase access to care in less-developed countries of the world.
Find out more on Ubenwa at the Nigerian National Pavilion at ITU Telecom World 2017 in Busan, Republic of Korea. Ubenwa have also entered the ITU Telecom World Awards at the event.